Jim Schatz and Peter Souza are the creative minds behind J. Schatz, a line of minimalist design-forward home goods sold in 14 countries worldwide, created from their live/work space in Providence's Olneyville neighborhood. When they decided to leave LA and reconnect to their East Coast roots, the couple shopped around five New England towns and ultimately found the Weybossett Dye House while visiting Rhode Island. "This building is so magnificent that once we knew we could afford to buy it, it was a no brainer," Schatz says. "It's a gorgeous, iconic building. It fit perfectly for our needs. We knew we could integrate our house and our workspace."
The couple set about transforming the 5,200-square-foot space into a working studio, a showroom and living quarters, as well as two small guest apartments for visitors. With 20-foot ceilings and plenty of light coming through the high windows, the building has become a beautiful, modern, airy-feeling space while still retaining its rustic old mill charm through touches like original wooden support beams and painted brick walls.
"Providence was on the top of [our] list, even without this building, because of the creative culture and being close to the water," Schatz says. "It's like SoHo in the '80s," Souza adds. "There are artists all around us."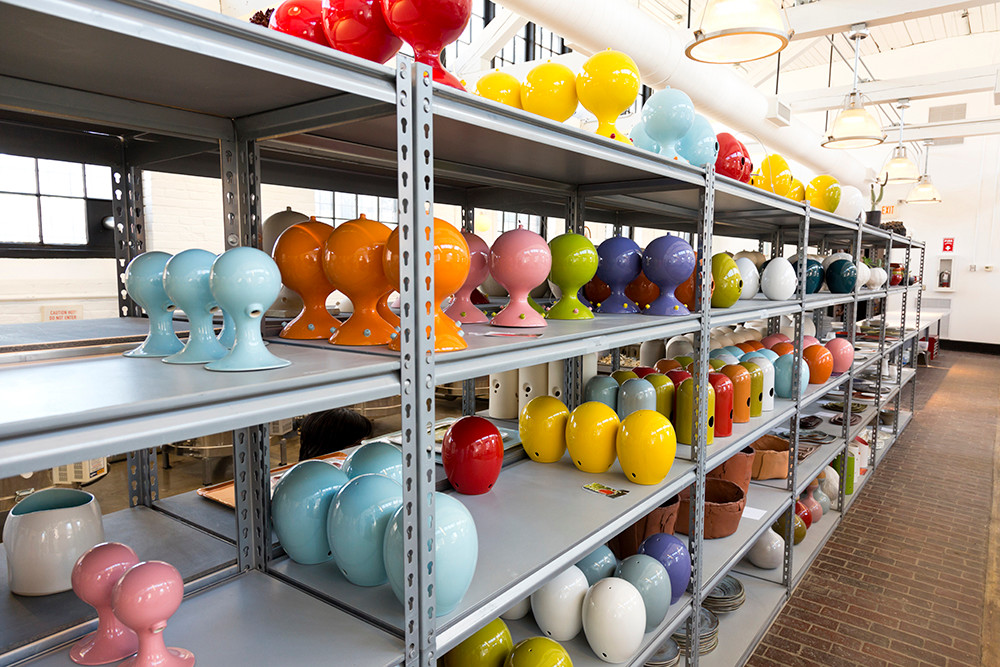 Photo by Brian DeMello

In the early 2000s in upstate New York, Schatz decided he was unhappy with the lackluster wooden bird feeder he had hanging outside his window. He decided the birds deserved something much nicer, and set about learning ceramics by teaching himself and working with local artisans. His final design, the Egg Bird Feeder, was one of Fortune's 25 Best Products of 2004. He went on to experiment with new shapes, functionalities and techniques – a hobby which grew into J. Schatz, a ceramics company making houses and feeders for many different bird species as well as lighting lines, table and kitchenware, and more.
Schatz describes his aesthetic as "brutalist, yet elegant" and his lines as "small, beautiful, detailed products you can't find anywhere else." Some pieces are made freehand, like the Brutal Coffeemaker with matching cups, while some use molds and extreme precision for a perfectly uniform look in glazed stoneware or porcelain, like the Star Egg night-lights which project points of light onto the wall through tiny openings. Many items are glazed with extremely bright and whimsical colors, while some are white or more subdued and earth-toned.
There are original J. Schatz works in their living space, too: the lamps on either side of the couch, and the swing. "We really focus on simple, important pieces," Souza says.
"Everything we have is minimalist. It's how we work and live."